Hi,
We've just announced a new version of LKRG 0.6! This release is… BIG! A few words why:
- We've introduced a new mitigation features which we call "poor's man CFI" (pCFI). It is designed to "catch" exploits which corrupts stack pointer to execute ROP and/or execute code not from the official .text section of the kernel (e.g. from the heap page, or user-mode page)
- We are using pCFI to enforce SMEP bit in CR4 and WP bit in CR0. If attacker disables one of that bits, LKRG will re-enable it again
- We've locked-down usermodehelper (UMH) interface - it will kill "class" of exploit abusing UMH
- We've completely rewrote *_JUMP_LABEL support - now it is independent of CPU architecture and can work on any CPU. Previously it was designed for x86 arch. New *_JUMP_LABEL support logic significantly reduce memory footprint, remove whitelisting, simplifies some algorithms and so on...
- We've introduce early boot systemd script/unit. Now you can easily manage LKRG service as any other service in the system. Systemd is the only init system which we support for now, but there is no reason to add support for other systems.
- We've fixed a few known problems with LKRG and made it more stable
- We've made all necessary changes to run LKRG on latest kernels
- A few more!
It's a big release with a lot of changes. Full announcement can be found here:
https://www.openwall.com/lists/announce/2019/02/19/1
Next, I would like to work on ARM support for LKRG. Stay tuned….
I believe this is one of the most stable release so far 🙂
The full announcement can be found here:
http://www.openwall.com/lists/announce/2018/08/30/1
I'm already working on the next version of LKRG which will include (among others) *_JUMP_LABEL support for modules as well (for now LKRG supports it just for kernel core .text). This is a big, complicate and heavy change and that's why we decided to announce 0.4 now since we wanted to have a stable release.
Thanks,
Adam
This time I would like to announce sort of a stable release of Linux Kernel Runtime Guard (0.3).
The full announcement can be found here:
http://www.openwall.com/lists/announce/2018/07/04/1
Additionally, I was giving a talk on Confidence 2018 security conference about LKRG's internals (LKRG under the hood). We've just released the slides online here: http://www.openwall.com/presentations/CONFidence2018-LKRG-Under-The-Hood/
Additionally, Confidence talks were recorded and you can find a video from my lecture here:
https://www.youtube.com/watch?v=tOiPM692DOM
Thanks,
Adam
LKRG 0.2 was just released and the announcement note can be found here:
http://openwall.com/lists/announce/2018/03/27/1
LKRG 0.1 was just released:
The change log is as follows:
Read more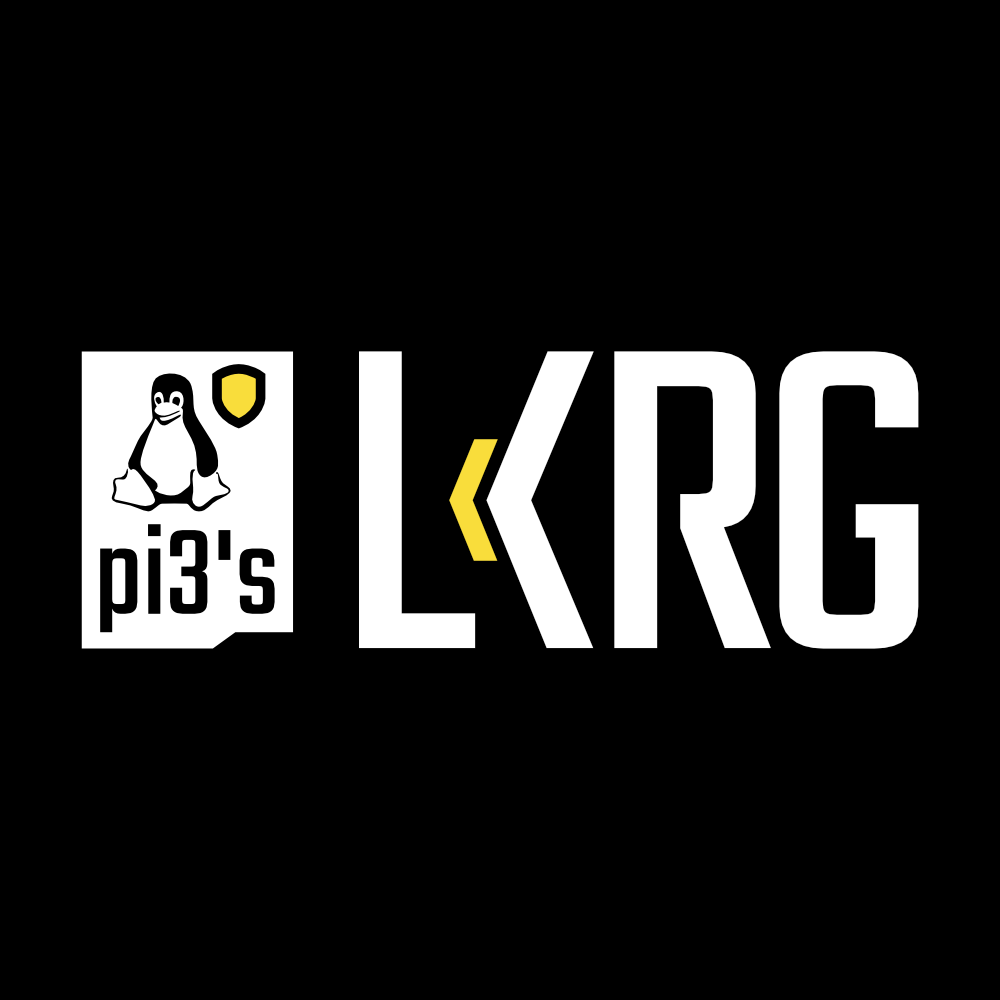 I'm happy to announce that my moonlight project is finally released. Thanks to Alexander Peslyak (a.k.a. Solar Designer) it is available through Openwall.
Linux Kernel Runtime Guard (LKRG) is a loadable kernel module that performs runtime integrity checking of the Linux kernel and detection of security vulnerability exploits against the kernel. As controversial as this concept is, LKRG attempts to post-detect and hopefully promptly respond to unauthorized modifications to the running Linux kernel (integrity checking) or to credentials (such as user IDs) of the running processes (exploit detection). For process credentials, LKRG attempts to detect the exploit and take action before the kernel would grant the process access (such as open a file) based on the unauthorized credentials. You can download the current experimental version of LKRG at its brand new homepage:
LKRG has been in (re-)development for a couple of years, and builds upon one of my prior's experience with a related project in 2011 (for CERN).
Official announcement had been made by Openwall and it can be read here:
http://www.openwall.com/lists/announce/2018/01/29/1
A lot of useful technical information about LKRG can be found on Openwall wiki page:
http://openwall.info/wiki/p_lkrg/Main
If you would like to support LKRG, you are very welcome to do so 😉 It can be done via Patreon website here:
https://www.patreon.com/p_lkrg
Best regards,
Adam 'pi3' Zabrocki
During Microsoft Patch Tuesday on April (2017) some of the Hyper-V vulnerabilities (found be me) were fixed:
Remote Code Execution – CVE-2017-0181 (details)
Denial of Service – CVE-2017-0182 (details)
Denial of Service – CVE-2017-0186 (details)
Linux kernel programming is always a challenge. Especially, when you are playing with very low-level functionality (like manually sending IPI between the CPUs/cores). Unfortunately, this specific functionality kept making troubles for me for a couple of weeks and I haven't found ANY information on the internet regarding the issue which I hit/met. That's why I decided it could be useful for other people if I describe my journey with the APIs like smp_call_function_single() / on_each_cpu(), NMI watchdog which can kill correct task and do not inform about problematic CPU/core etc. I've been discussing this issue with Alexander (Solar Designer) and he has started a discussion about that on Linux Kernel Mailing List (LKML) which you can find here:
http://lkml.iu.edu/hypermail/linux/kernel/1609.2/03265.html
Thanks,
Adam
Hi,
The journey into CVE-2014-9322 is not straightforward but it is worth to spend some time on it and analyze all available information. I will try my best…
It's long time I haven't been posting here. Just quick update, excluding private conferences where I gave a few talks (which I can't mention), last time I was a speaker on some known conferences:
– Security B-Sides in Warsaw 2014 (as anonymous speaker). I was talking about attacks on modern x86/x64 architecture (like TLB-splitting, virtualization, AMT, etc.). Conference has warm and homely atmosphere which helps to integrate every attendee. This is rare opportunity in modern industrial IT sec world…
– Secure 2014. Each year conference is more and more well-known and famous. CERT Poland (organizer) strives to keep high value of his baby and every year invites most skilled speakers. This year (2014) I had a chance to gave an official talk on behalf of the Microsoft: "The exploitation arm race between attackers and defenders". I've received massive positive feedback which is for me the largest acknowledgements of my work. Conference is very professional and prepared down to the last detail.
From the most modern news:
– I have found a bug in nginx (on Win32 platform) and official patch can be found here:
http://hg.nginx.org/nginx/rev/78271500b8de
http://forum.nginx.org/read.php?29,256289
– One of my friend started interesting project – hack.it. The aim is to show as realistic as possible documentary / reality about IT security industry. Nowadays IT security is a "hot" topic (more than ever) which doesn't help to promote proper transmission. It's is not first time when someone is trying that, unfortunately not many projects was successful on this field. I wish him the best and I hope to receive the highest quality of the documentary which can be done, because I know he can do it 😉
Btw. I hope I'll have more time to be more active here… 🙂
Btw2. Ponieważ obiecałem znajomemu, że napiszę jakiś post z dedykacją dla niego, dedykuję ten wpis dla Mateusza "shm" Kocielskiego 🙂
Best regards,
Adam